Although the number one reason for deciding to build a swimming pool in your backyard is to have a place to swim in, one of the other important reasons is the sense of calm that water brings to people. The tranquillity and relaxation associated with looking at calm, still body of water.
For most people, there is something inherently fascinating about infinity pools.
Referred to by many names, infinity pools are also called zero edge pools, infinity edge pools, disappearing edge or negative edge pools.
Unlike the usual types of pools, infinity pools give onlookers the feeling that the water Is falling off the pool edge the way waterfalls do. They give off the illusion of a seamless transition from the pool area to the rest of the landscape.
The motivation to experience the peace that comes with focusing on a body of water in terms of pool building is pretty compelling in the case of infinity pools.
So, if you're looking to have an infinity pool built in your backyard, but are concerned about the costs as well as the process of building the pool itself, read on to find out all there is to know about infinity pools.
What exactly is an infinity pool?
An infinity pool is a type of pool which plays a visual trick, and produces an optical illusion of the water at the edge of the pool seemingly vanishing into the horizon. It tricks onlookers into thinking that there is no physical barrier between the water and the surrounding landscape.
Are infinity pools a new design innovation?
The infinity swimming pool has its precursors, including swimming pools built by a modernist architect named John Lautner in the middle of the 20th century. Lautner built a number of swimming pools with a vanishing edge in Southern California. In fact, one type of infinity pool design is named after him – the Lautner knife-edge design.
What happens to the water falling over the edge of an infinity pool?
Of course, you already know that this is all an illusion. What really happens is that the water going over the edge actually falls into a catch basin located below. From this location, the water is pumped back into the main pool, thus facilitating the continuous flow of water.
The mechanism is actually similar to that of natural waterfalls, where the water from the waterfall you are seeing seems to disappear into thin air. Of course, this is not the case since the water is actually flowing down to a lower-level fall, which also leads down to another lower-level fall and so forth, until the water reaches a brook or stream.

What's the edge of an infinity pool like?
The edge of an infinity pool is similar to the edge of any other type of swimming pool. However, there's a dip in one section of the pool that allows water to flow over into a lower catchment basin. To achieve the illusion of a disappearing edge, infinity pools are designed and constructed without a visible cap. You won't see any coping, decking or pavers that only serve to call attention to the edge.
What would be ideal sites for building an infinity pool?
To use an infinity pool to best effect or to show it off to its fullest advantage, it needs to be built in a location with the appropriate setting, or in sites with a significant slope or drop-off. This way, the expense and effort of building one won't go to waste.
If you have some mountains, a wooded area or another body of water (such as a lake or a river) as a natural backdrop, the infinity pool can certainly make for an arresting effect.
Examples of famous infinity pools
Probably one of the most famous infinity pools anywhere in the world is the one at the Marina Bay Sands in Singapore. Thanks to social media platforms like Instagram, this infinity pool is one of the most-recognised globally. It was built as a rooftop swimming pool, and is located 57 floors above street level. It is famous for having a panoramic view of the city as its background.
Aside from the Marina Bay Sands infinity pool, these other infinity pools scattered all across the world deserve to be mentioned:
The Cambrian Hotel Adelboden, Switzerland
Grace Santorini, Greece
Paradise Pool, The Maldives
Caesar Augustus Hotel, Italy
Alila Ubud, Bali
Hotel Villa Mahal, Turkey
Alila Villas, Uluwatu, Bali
Hanging Gardens of Bali
If you have your own infinity pool there's no need to travel to these places just to experience the benefits of having one. You don't even need to step out of your own backyard.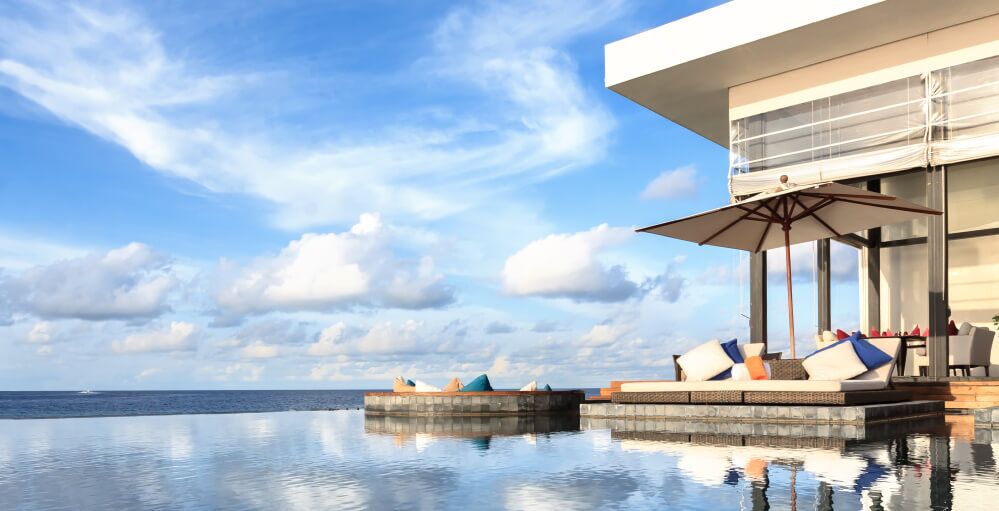 How much does a typical infinity pool cost?
Among the trickiest features of an infinity pool are the catchment and recirculation systems. These also add a degree of complexity, and more expensive, to the construction. A vacuum basin is also necessary to prevent pool water from flowing in the wrong direction. You'll also need a special filtration system designed to get rid of leaves, bugs, and other debris from the edge of the pool.
At Compass Pools, we've been building infinity swimming pools for almost 40 years, and we know that Infinity pools are one of the more complex types of pool builds. However, they are certainly among the most amazing projects we've ever handled.
Most infinity edge pools made of fibreglass add about $25,000 to $35,000 to the price of a typical pool project. With the cost of a pool project ranging from $40,000 to $70,000, including a negative edge or an infinity edge can cause stress on a backyard pool budget. But why should it cost so much to transform a regular pool into an infinity-edge type?
About an infinity edge
The main reason for the ballooning of the cost has to do with the fact that constructing an infinity pool is akin to building two swimming pools. Of course, the only discernible difference people observe between regular pools and infinity pools is the effect of the water disappearing. But in reality, that water which seems to fall over the edge actually has to go somewhere in order to create that illusion.
In effect, when building an infinity pool, we're also building another pool – something like a hidden pool underneath the main pool. This hidden pool sits below the main pool, and must be big enough to receive a third of the main the pool's holding capacity.
There are actually three components of the cost of an infinity-edge or disappearing pool:
Manufacturing of a special edge on the swimming pool shell;
Building the pool shell using Maxi Rib technology for a freestanding structure, or building a normal pool shell installation with concrete beam retaining work to support the sides and top of the edge; and finally…
Constructing the holding tank or hiding pool to hold the water.
Each component is like a separate sub-project, if you will, to be combined later to comprise the completed infinity pool. As a result, the cost on a project like this can be seriously difficult to manage.
Will the size of a negative edge or infinity edge pool affect the total price?
No, not really. The size of the pool does not have a major impact on the total cost of an infinity pool building project. For example, if you are planning on having a six-metre disappearing edge pool built, it would require almost the same amount of work as a nine-metre edge pool.
Therefore, wanting to have an infinity and lap pool combination [I am referring to an infinity pool and lap pool combination here, although I know spa-pool combos are typical] will not significantly add that much extra cost to the total price of the infinity pool project. Do note, however, that if the negative edge or infinity edge of the pool includes one the pool's corner, this can mean additional costs, as the construction job becomes more complex and technical.
Is it safe to swim in an infinity pool?
Of course, just like any pool, infinity pools are safe especially since the so-called "infinity" edge is just an optical illusion. So if you swim close or all the way to the edge of the pool, you'll bump into the wall eventually, and there is no danger of falling over the edge accidentally.
Does having an infinity pool entail any additional maintenance?
Since infinity pools make use of rather complicated technology and design, you can expect your pool to feature extra maintenance requirements. After all, there's one other extra place that needs to be cleaned: the water catchment basin. This effectively doubles the area that may need to be maintained. However, they can also be built as 'intelligent pools' that can effectively clean themselves.
And just like in other pools — but with twice the effort (since the complete structure technically contains two pools — you also need to monitor the water pump as well as the filtration system. Anytime a component breaks down or gets clogged, effective water recirculation will not be possible.
Also, when it comes to the amount of water being used, infinity pools use more than a standard pool. The reason is that, as the water flows over the edge down into the lower basin, some of the water evaporates much faster than usual during this process. So this means you'll be using more water to keep your infinity pool constantly 'full' — and to keep the water falling over the edge — than you would if you were simply managing a regular swimming pool.

So, is an infinity pool for you?
The way infinity pools look and their influence on our aesthetics, as well as their soothing effect on people make them a highly desirable swimming pool choice. Coupled with a magnificent view of a green expanse of land such as a forest, a mountain or the woods, or a natural body of water, or even a nice city view, an infinity pool is certain to impress.
However, infinity pool costs can be prohibitive for most. This is why you need to actively prepare for the expenses that go with the construction of the pool before you commit to the project.
The Compass Display Centre Newcastle has been an industry-leading expert in the field of infinity pool construction for decades.
Compass Pools team has successfully developed a unique technology for supporting swimming pools above-ground on sloping sites. This technology is called Maxi Rib technology. It enables a fibreglass pool shell to be installed on a super-strong rib-like structure which then provides the pool with all the support it needs.
So all the infinity pools we have constructed through the years are still around – all durable and long-lasting, and truly magnificent to see.
Therefore, if you require our brand of expertise for your infinity pool building project (or any type of pool actually), don't hesitate to contact Compass Display Centre Newcastle.
We'll be happy to provide expert advice and guidance in all of your pool-building decisions.